While the whole island was busy fighting COVID-19, another dangerous virus reemerged, unnoticed, in our midst.
Each year, about 390 million people are infected by dengue fever, and the virus causes about 25,000 deaths around the world.
Dengue is serious business. The disease brings on a host of unpleasant symptoms such as high fever, headaches, vomiting, joint pain, rashes, and in some cases, severe internal bleeding, and eventually death.
Even though it is not as infectious or deadly as COVID-19, paying attention to this reemerging threat is important for your safety.
At Hardy Henry Services, we help protect you by directly targeting the carriers of the dengue and malaria virus, mosquitoes.
How can you protect yourself?
Before calling upon our services, you can take some simple measures in your home or office to protect yourself from mosquitoes. But, if the problem worsens, or is not solved over time, make sure to contact a professional to help you protect your health and wellbeing.
Do not leave any standing water around your home as these are ideal breeding grounds for these insects. Pay particular attention to water collected in plant trays and water drums.
Put some natural predators, like fish, in your garden ponds. These will eat up any mosquito eggs or larvae they find.
Put some fly screens on your windows to help keep the mosquitoes out.
Try to use natural repellants such as citronella, lavender, or vanilla extract.
When and why should you call us?
Mosquitoes are more than a nuisance ruining your evening barbeques. These insects are man's biggest killer with a reported 750,000 deaths caused by their bite every year.
So, when a dangerous mosquito-borne disease such as dengue, malaria or chikungunya, reemerges, it's important to tackle the issue, especially if your standard incense sticks or regular mosquito repellant is having no effect.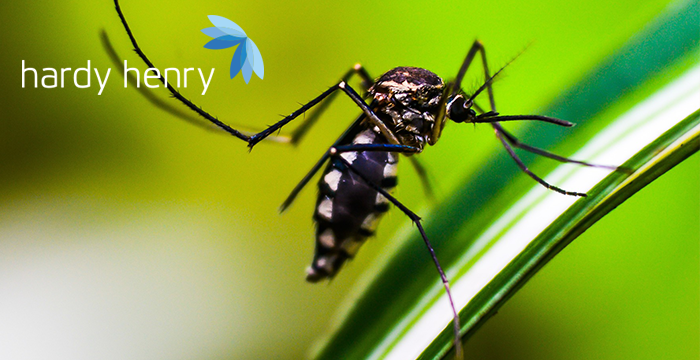 That's where we come in.
Hardy Henry Services offers safe and targeted treatments to protect not only your health but also your business reputation.
Just as you should do your best to keep your premises COVID free, you should try to keep mosquitoes away from your offices as much as possible.
The damage to your trust and reputation that these insects can cause is incalculable, and could be made potentially worse should anyone fall sick from any mosquito-borne disease after a visit to your offices.
We can help keep your premises safe.
Our team is trained to identify potential mosquito breeding grounds which you may ignore, and apply different solutions which help treat adult mosquitoes and larvae, guaranteeing that your premises stay mosquito-free.
All products we use are approved for domestic and public environmental health so working with us is 100% safe for human health.
Don't let mosquitoes pose a risk to your health or that of your business's reputation. Get in touch with us if you would like to discuss how we can help you stay protected from dengue and other such viruses and keep your day mosquito-free.
The Hardy Henry Services Team