Take a look at your colleague sitting opposite you. Yes, the friendly colleague who eats sandwiches at his desk every midday and helps you carry your files to meetings. You love having him around, but chances are he's one of the 62 % of office workers who fail to wash their hands after leaving the loo. Or perhaps he's one of the 1 in 3 workers who escape to the bathroom just for some alone time in the office… Still, think the world of him? 
Let's face it, bathrooms (and the things we do in them) are part of our daily lives. So let's break taboos and look at the most common toilet habits in the office. Some will make you laugh, some will make you cry and some will make you bust out the hand sanitiser in fear… Happy reading.
Fact 1: Most of us are embarrassed:
For many, a trip to the toilet can be downright embarrassing. According to a survey, 52% of workers flush the toilet to cover up the sounds they make while on the throne. Don't feel like wasting water? You can join the 6% who would rather hum a song than let their cubicle neighbour know what they're up to. And they should be considering the next fact….
Fact 2: We don't like hearing other's dirty business:
Sometimes toilet breaks bring out the worst in us (literally and metaphorically). One of the most hypocritical facts we've uncovered so far is that 15% of people don't like to hear their colleagues passing wind… he who throws the first stone…
Fact 3: Many of us avoid the office toilet altogether:
Understandably, 54% of office workers avoid or try to avoid going to the toilet. No doubt to escape the people humming in the cubicles…
Fact 4: Many office workers don't know how to use a toilet properly:
Despite 92% of office workers claiming they leave the toilet in the same state in which they found it, most are lying. A staggering 43% of people have found urine outside of the toilet bowl, and an unlucky 20% have even seen faecal matter. We apologize if you're having lunch while reading this.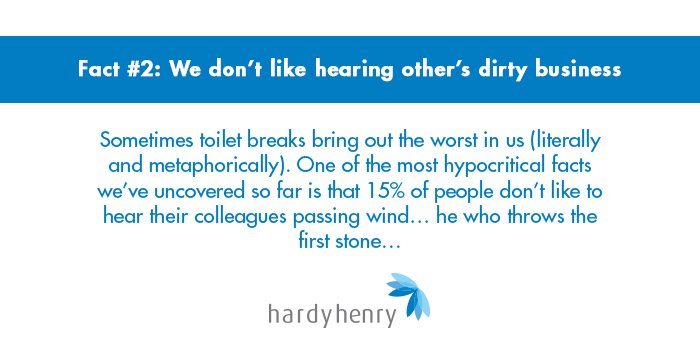 Fact 5: Office work doesn't stop at the loo:
A lot of us like to do business while we do "our business". 38% of people have admitted to sending and reading emails while on the toilet. Maybe that's why smartphones are 10 times dirtier than toilet seats on average….
Fact 6: Most people want cleaner office bathrooms:
61% of office workers would like a cleaner office bathroom. Considering the stats listed above, that's no surprise. Maybe they should tell their boss' to give us a call… just saying.
Fact 7: We cringe whenever a client walks into our toilets:
Perhaps one of the most telling stats of all… 31% of office workers would hate for an important client to use their toilet facilities, lest all their hard work in the meeting room be undone by one miserable puddle of urine by the toilet bowl.
There you have it, seven facts about toilet hygiene which will hopefully make you more conscious of how you use your office facilities. Remember, your toilets are also part of your brand and how your staff and clients perceive your company. So keeping them clean is essential to protect your reputation and the health of all those using your facilities. Get in touch with us now and we'll show you how.